Acting for Camera Summer Camp!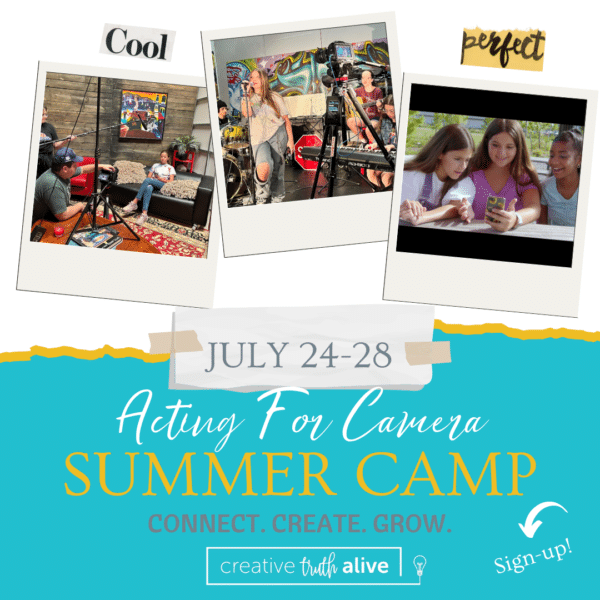 July 24 - 28, 2023
9am - 12noon
Ages 10 - 18
@ The Revelation Collective Studio: Winter Garden, FL
In this Acting for Camera Summer Camp students will have the opportunity to immerse themselves in an intensive acting experience.  Students will have the opportunity to work on acting technique, practice audition skills, and act on camera in scenes and/or monologues…all in one week!
Deadline to register is: July 19.
For Actors Who Love Acting on Camera!
Actors in Orlando and Central Florida who want to explore the possibility of a professional career in acting will have the advantage of emerging from this Acting for Camera Summer Camp more confident, driven, and with real film footage for their portfolio or acting reel! 
SESSIONS FOR ACTORS DURING THE WEEK INCLUDE:  
SCENE STUDY: Learn how to create unique fully-fleshed out characters that are believable and captivating for viewers to watch on-screen. 
ACTING FOR CAMERA TECHNIQUE: Learn how to adjust your onstage acting presence to the "intimate level" that is needed for specific types of camera shots and angles.  
VOICE & MOVEMENT: Voice and movement exercises will help the actor learn how to free their voice and body from tension and strain, produce better articulation, and avoid damaging their voice in their craft of acting.   
IMPROVISATION: Practice specifically and spontaneously responding in improvisational exercises and scene work. 
MONOLOGUES: Develop a strong presence and understand how to successfully commit to your character's objective and tactics for the camera.  
AUDITION TECHNIQUES: Practice audition skills in cold-reading and instantaneous character-building in mock audition sessions.   
Last Year's Summer Camp Was a "Reel" Blast!